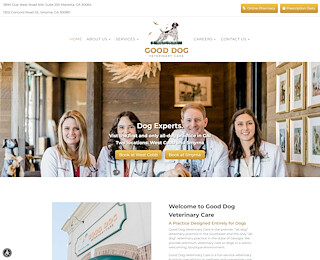 Unfortunately, there are times in many dogs' lives when surgery will be needed. The kinds of surgery that a dog can need can range from routine to life-saving, and our dog patients' human guardians appreciate that there is a place like Good Dog Veterinary Care – Georgia's first and only dog-only veterinary clinic! If your pooch needs surgery, why not have it done in a veterinarian clinic that only cares for dogs? This means that all of our time, efforts, and resources are dedicated to the health and wellness of man's best friend. Put simply; Good Dog Veterinary Care specializes solely in dog treatment, and surgery is an everyday practice at our veterinary clinic.
If your dog needs surgery in Marietta, Good Dog Veterinarian Care invites you to contact us for an initial consultation. We would like a chance to discuss the pros and cons of the surgery that your pooch needs, and we would like to learn as much about your dog's health and lifestyle before commencing operation. The more we know about your dog, the better we can perform the surgery and minimize the risk of potential complications.
At this point, you might be wondering what kind of dog surgery services we offer at Good Dog Veterinary Care. There are three types of surgery that we provide:
1. Spaying and Neutering
Having your dog spayed or neutered is a responsible thing to do as a dog guardian, and it is the most common dog surgery procedure that we provide at Good Dog Veterinary Care. Once your dog is spayed or neutered, they will no longer be able to reproduce, and if they have any aggressive behaviors, you will likely notice that these are greatly diminished or even eliminated! Plus, spaying eliminates a female dog's heat cycle.
2. Soft Tissue Surgery
Often, a dog's conditions involving cardiothoracic, gastrointestinal, respiratory, and urogenital systems can be treated with soft tissue surgery. This is also true of many of the conditions that arise with a dog's ears, nose, and throat.
3. Orthopedic Surgery
There are many different kinds of orthopedic surgery, and Good Dog Veterinary Care is qualified to perform them all, including, but not limited to, the following:
Amputation of toes and legs
Bone fracture repairs
MPL
Cruciate ligament repair
Femoral Head Osteotomy
Contact Good Dog Veterinary Care Today to Discuss Surgery with a Certified Dog Surgeon
Remember, you can contact Good Dog Veterinary Care via telephone or by clicking the "Book Appointment" button on the homepage of our website. If you need dog surgery in Marietta, then we understand what you are going through. Good Dog Veterinary Care specializes in dog surgery, and we understand how to treat dogs inside-out.
If your pet is in need of dog surgery in Marietta, give Good Dog Veterinary Care a call. We'd be happy to discuss your dog's needs with you, as well as options, pricing, and payment plans, or you can schedule an appointment today.